As chair of the Nominating Committee, I am delighted to announce the slate for ORCID's 2023 Board election.
We received nine well-qualified nominations for the Member Representative board seats, and 16 for the Researcher board seats. We were delighted to have nominees with experience in areas the board identified as top priorities for this year's nomination cycle: experience in the publishing and service provider sectors, strong finance and technology skills, and networks in Europe and Asia-Pacific.

The Nominating Committee considered each nomination carefully, striving to build a slate that would bring needed sectoral balance to the board and fill key skill gaps as directors rotate off the board. I would like to thank the members of the committee for their hard work and thoughtfulness throughout the process: External Committee Member (and ORCID Board alumna) Patricia Brennan (CZI, USA), Board Member Amal Amin Ibrahim (National Research Center, Egypt), Board Member Calvin Johnson (NIH, USA), External Committee Member (and ORCID Board alumnus) Salvatore Mele (CERN, Switzerland), Board Chair Linda O'Brien (Griffith University, Australia), Daisy Selematsela (UNISA, South Africa), and External Committee Member Andrew Stammer (CSIRO, Australia)
The Nominating Committee recommends the following nominees for election to the ORCID Board for the three-year term as per the bylaws, from January 2023 to December 2025.
2023 Slate
Nicolas Fressengeas
University Vice President, Université de Lorraine (Member Representative, France)
Nicolas Fressengeas earned a PhD in physics in 1997, was granted the right to supervise PhDs in 2001, and became Full Professor in 2004 at the University of Metz, which merged in 2012 into the University of Lorraine. His research interests evolved from non-linear optics to optical materials, involving both experimental and theoretical work, with an emphasis on simulation and optimization in the last decade. He teaches physics, digital physics, computer science, university pedagogy and Open Science. In 2017, he created the applied physics master's degree at his university and became head of the laboratory. He was appointed the university's Open Science officer in 2019, which allowed him to manage editorial and data policies, and to get involved in the boards of the national Open Science infrastructures (HAL, Recherche Data Gouv, Institute for Scientific and Technical Information), in national and European working groups on research assessment, as well as in the national council on research integrity. This position evolved in 2022 into the vice presidency of his university, in charge of the digital, data and open science policies.
Gregory J. Gordon
Managing Director of SSRN and Managing Director of Knowledge Life Cycle, Elsevier (Member Representative, United States)
Gregory Gordon holds dual roles for Elsevier; Managing Director of SSRN and Knowledge Lifecycle Management. SSRN is a leading Open Access, multi-disciplinary, online repository focused on providing Tomorrow's Research Today for early-stage scholarly research. In May 2016 SSRN joined Elsevier and has grown to 70 discipline based research networks with over 1,000,000 papers from more than 800,000 authors and users have downloaded close to 200,000,000 papers to date. The Knowledge Lifecycle role looks at how content should flow between different product silos and bridging the gap between Elsevier and other organizations. Prior to helping Michael C. Jensen found SSRN in 1994, he started his career at KPMG, was the CFO of a public software company, and worked at or founded entrepreneurial companies in technology and health care. He regularly speaks around the world and writes about scholarly research and the changes needed to create innovative research faster. He co-authored Standards and Infrastructure for Innovation Data Exchange, published in Science, and The Question of Data Integrity in Article-Level Metrics , published in PLOS Biology, and he gave a TEDx talk, Trust to the Power of One, in 2019.
Kalynn Kennon
Head of Data Engineering, Infectious Diseases Data Observatory (IDDO); Centre for Tropical Medicine and Global Health, University of Oxford (Researcher Member, United Kingdom)
Kalynn Kennon is the Head of Data Engineering at the Infectious Diseases Data Observatory (IDDO) based at the Centre for Tropical Medicine and Global Health at the University of Oxford. She is responsible for the development and maintenance of data standards, the robustness of the data curation process, assuring the quality of the data, and the efficiency of the data curation team. She is especially interested in the linkage of disparate data sources and the enrichment of metadata for these resources to increase the interoperability and findability needed to generate new evidence and improve health outcomes. Before moving to Oxford, Kalynn worked for over four years on the Nashville Breast Health Study, a breast cancer epidemiology project at Vanderbilt University Medical Center and then six years coordinating a variety of interventional trials for children with language delays at the KidTalk group at Vanderbilt University. She has a BS in Interdisciplinary Studies from Vanderbilt University.
Heath Marks
CEO, Australian Access Federation (Member Representative, Australia)
Heath Marks is a professional with a wealth of management experience in the successful delivery of transformational information technology within the tertiary education and research sector. He was appointed by the Council of Australasian University Directors of Information Technology (CAUDIT – caudit.edu.au) in July 2009 to head a team to deliver the sustainable operations of the Australian Access Federation (AAF) (Australia's national trust authentication framework and from 2016 the ORCID Consortium Lead for Australia). Heath has been instrumental in the successful operations of the AAF, a membership and subscription-based company which is a not-for-profit and registered charity delivering national infrastructure for the research and education sector. Heath's appointment with the AAF has seen him take the service from a grant funded technology start-up in trust and identity to a sustainable service providing cutting edge national digital research infrastructure in the Australian 2021 eResearch Infrastructure roadmap. Throughout his career, Heath has participated in many national and international committees and working groups on trust, identity, cyber security and company strategy. Heath has formal qualifications in information technology (BInfTech), and business (MBA, MTechMgt) and is a graduate of the Australian Institute of the Company Directors (GACID).
Steve Pinchotti
CEO, Altum, Inc. (Member Representative, United States)
Steve Pinchotti is Altum's Chief Executive Officer. He is responsible for setting the strategic direction of the company and overseeing all aspects of the organization. Altum's core software platform, ProposalCentral, connects 200+ funders with 33,000 institutions and 700,000 researchers. ProposalCentral was the first ORCID certified service provider. With over twenty-five years of software development and implementation experience with organizations around the world, he is passionate about delivering innovative solutions to Altum's customers. Steve's entrepreneurial and philanthropic interests have led to ownership in three successful companies, and a significant role in growing a local non-profit called Helping Hungry Kids (HHK). Steve is a member of the NISO Peer Review Taxonomy Working Group, helping to set the direction for the use of persistent identifiers in the peer review process. Altum sits on the steering committee for Peer Review Week, assisting in the definition of strategy and tactical planning for this annual event. Steve holds a B.S. degree in Computer Science from Westminster College and is a 2014 graduate of the DC-based MindShare CEO Network.
Janet Remmington
Global Portfolio Director, Taylor & Francis (Member Representative, United Kingdom)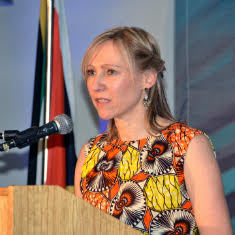 Janet Remmington is Global Portfolio Director for the Humanities, Media & Arts and Humanities & Social Sciences International at Taylor & Francis. She oversees a portfolio of around 500 journals under the prestigious Routledge imprint and a diverse editorial team that serves scholarly and professional communities around the world. With over 20 years in academic publishing, Janet has editorial leadership experience across subjects spanning the Sciences, Social Sciences, and Humanities. She thrives in building and acquiring quality publishing venues, developing productive partnerships, and creating publication and engagement opportunities for researchers. Janet has also worked for Elsevier and Helicon publishers, and is active in a number of industry, scholarly, and creative bodies. She has served on the Executive Council of Research4Life and co-chaired the Publishing and Research Taskforce which informed the 2030 strategic plan. Janet's areas of interest and commitment include global research equity and inclusion and accessibility in publishing. Complementing her publishing career, Janet remains research active, contributing to journal and book publications as an interdisciplinary scholar at the interface of literature, politics, and history with a focus on Africa. She has a PhD from the University of York, Masters degrees from the Universities of Oxford, London, and Cape Town, and a postgraduate publishing qualification from Oxford Brookes University. She too serves as a board member and trustee of the Poetry Translation Centre, a UK charity dedicated to fostering global creative excellence and cultural dialogue.
Voting Procedures for ORCID Board of Directors Elections
All ORCID members in good standing as of 2 October are eligible to vote. Online voting will be open from 1 November—1 December, and full instructions will be sent to the official contact at each member organization by 28 October. Members also have the option to propose write-in candidates for the Board within 30 days of the slate being announced (by 28 October)—full information can be found in our bylaws, Section III, Article 2.
Associated Posts
https://info.orcid.org/2023-orcid-board-elections-nominations/